Erasmus+ is the EU's programme to support education, training, youth and sport in Europe. Its budget of €14.7 billion will provide opportunities for over 4 million Europeans to study, train, and gain experience abroad. Set to last until 2020, Erasmus+ doesn't just have opportunities for students. Merging seven prior programmes, it has opportunities for a wide variety of individuals and organisations. The aim of Erasmus+ is to contribute to the Europe 2020 strategy for growth, jobs, social equity and inclusion, as well as the aims of ET2020, the EU's strategic framework for education and training. Erasmus+ also aims to promote the sustainable development of its partners in the field of higher education, and contribute to achieving the objectives of the EU Youth Strategy.
The PRIGO University holds the Erasmus Charter for Higher Education.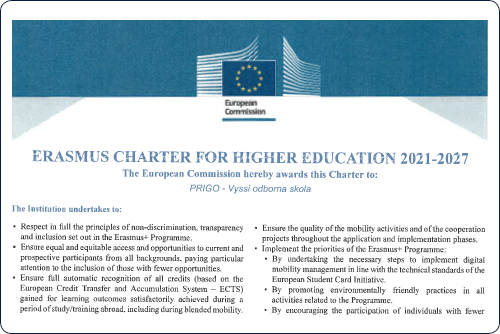 Information for incomming students
Admission requirements/procedure
Student who wishes to come to study at PRIGO College in the frame of Erasmus+ Programme needs to find out whether there has been signed the Erasmus+ Inter-institutional agreement between his/her home university (= sending institution) and PRIGO College (= receiving institution).
The first contact must be at students' home university where student obtains all necessary information concerning study conditions and application procedure.
The Erasmus coordinator of sending institution will send the nomination of students to our institution.
Nomination deadlines
30 May for the winter semester
30 October for the summer semester
Nominated student will download the Application form and the Learning agreement and complete them.
To see the courses please visit the particular branch of study at our website.
Once the documents are completed and duly signed, they can be scanned and sent together with the Transcript of Records by e-mail to anezka.liparova@prigo.cz
Application deadlines
30 June for the winter semester (30 May if the student needs a VISA)
30 November for the summer semester (30 October if the student needs a VISA)